10215 Obi-Wan's Jedi Starfighter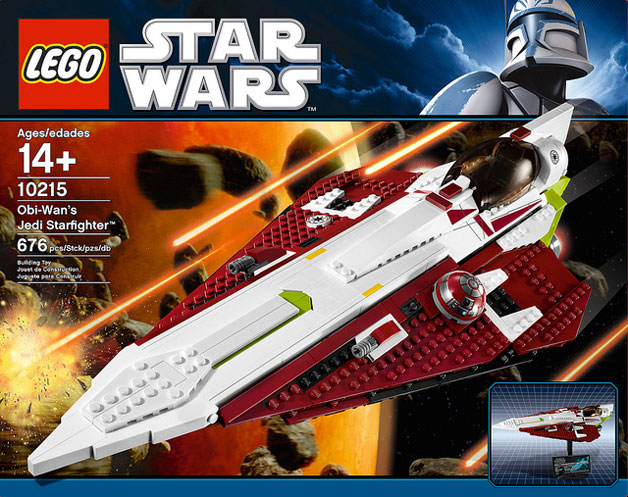 User Comments:
Epic Emperor

writes:
Pros: You can really get this UCS set just for the parts, especially if you should manage to get in on sale for 70 bucks. It contains loads of the beautiful, "Republic" dark red plates and wedges, as well as white and light bley slopes. The assortment of SNOT parts is incredible, featuring no less than 20 tan 1x1 SNOT bricks alone. These parts and the unusually clever building techniques they're used in give the starfighter a very clean and polished look, with barely any studs visible on the outside of the body. The whole model is very detailed, from the nicely done lower side of the body to the cockpit which features a good mixture of stickers and small parts to create a realistic interior.

Cons: The main problem with the design is the overall shape, which, while a lot closer to the original look than any of the minfig scale versions, isn't as tilted as it should be. However, I guess this isn't the main reason for the set's bad sales: For a UCS set, you could expect the finished model to be somewhat bigger and even more detailed; in comparison to other UCS giant models, it looks surprisingly small. While the 676 pieces contain a great selection of useful parts, the price-per-piece ratio isn't as good as it should be for a set without any minifigs or expensive molds - with nearly 15 cents per piece, it is obviously overpriced.

Comments: The UCS version of Obi-Wan's Delta 7 Starfighter isn't a bad set; however, considering that most UCS buyers are adult OT fans, and that the set is a tad too expensive and dissappointingly sized, its relative failure as a LEGO product is comprehensible. If you need dark red and white pieces or SNOT bricks, or if you're generally a fan of the PT, there is no reason not to get this.