10212 Imperial Shuttle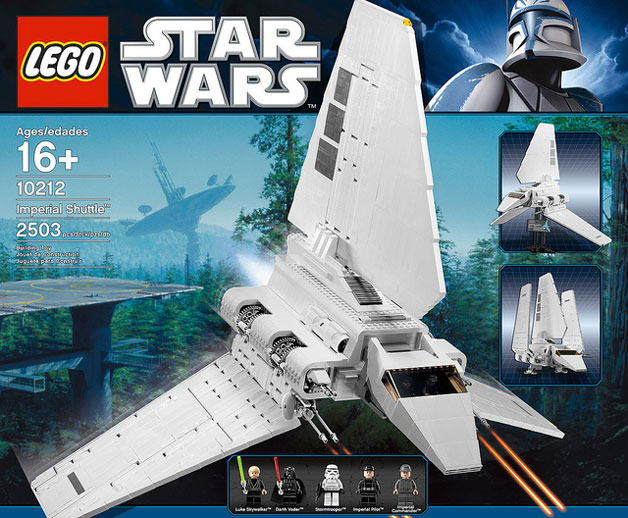 User Comments:
SuperDave

writes:
Pros:
This is one of the most beautiful sets I've built in a long time. It's big, iconic, accurate, and aesthetically pleasing. The part selection (as long as you're not looking for color diversity) is pretty decent, offering some hard-to-find and new parts.

Cons:
This thing can wobble when you walk toward it. The construction, after you finish the main body, is deeply repetitive. There's a whole lot of white and not much else.

Comment:
I love this set. It reaches the pinnacle of Lego elegance.



Tohst

writes:
Pros:
Looks amazing on the shelf
Wings use a technic/normal brick technique that makes them very sturdy

Cons:
Nothing special in the minifigure department - Not even printed Stormtrooper Legs.
Not a whole lot of playability. There are empty spaces inside that you can't get to.
Use of lots of White Brick, Arched 1x6x2 with curved top (full arch) instead of two 1 x 6 x 3 with curved top (half arch)
reducing the usability of those pieces elsewhere(Sorry, pet peeve).

Comments:
The ultimate in display models. Big, beautiful, and impressive. I'm renaming it the Diva. Once you take it off the shelf to play with it and you have to fiddle with two cranks to move the wings, you have to fumble with the detachable landing gear (and it still falls forward when landed) and Luke and Darth have to ride in the cockpit making the flight from Endor seem more like a road trip in a Pinto, you begin to long for the less impressive but more play friendly 7166.