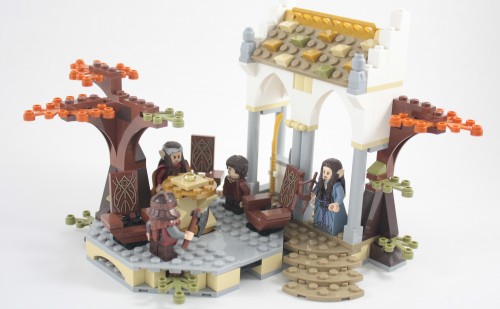 While the Lord of the Rings LEGO line has only been out for a couple of years at this point, it's still surprising to think that the movies they're based on are twelve years (Fellowship was released in 2001) old at this point. There's a lot that's changed in the years since then, both for LEGO (having more than one licensed line) and the actors involved (remember when people thought Elijah Wood was going to be in everything after these movies).
I remember being in the theater, not yet awed by Fellowship and bought in to the setting that was going on, and thinking about the actors that I knew from other films. Frodo was in that gawd-awful Rob Reiner movie, North. Gimli played Leonardo Di Vinci on Star Trek Voyager (he may have also had some small role in some independent film about an archeologist). Aragorn was in love with Steven Tyler's daughter… I can distinctly remember seeing her and just waiting for some Aerosmith ballad to start playing in the background (Armageddon ruined that band).
But more than that, when the council scene started, it was Agent Smith walking out in a rare break in all the walking that made me snicker. By the end of the movie, I would associate all of the actors with their characters in the film, but for a brief, happy moment, I was just waiting for him to go flying through the air on some wire stunts.
This set sets up a lot of the rest of the movie, and introduces two of the lesser (yet important) characters from Lord of the Rings, Elrond and Arwen, along with giving us another Gimli and Frodo. It also comes in at $25, which means it's obviously not going to have the size/scope of the council scene in either movie (which featured a lot of people in both). I was suitably impressed with the Wizard Battle, the smaller set in the new line, so I'm curious how this stacks up in comparison.