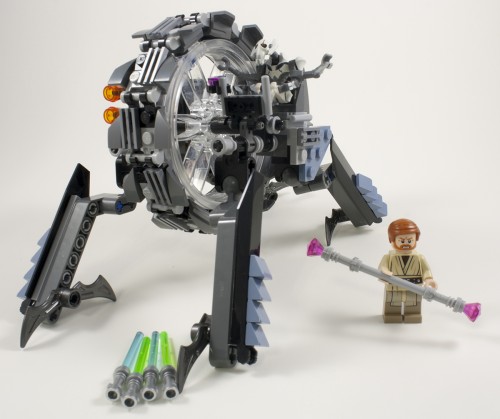 Anyone who's read my reviews knows that I like to do comparisons when a set is an update to an existing release. I've been collecting for a long time, and have a pretty decent collection of stuff to pull from to do it. I'd like to tell you this is going to be some great comparison review, showing the differences between the old Wheel Bike set, made in 2005, and this one.
Yeah, I parted out the old bikes years ago. It was an awful set based on an awful and absurd design. The Wheel Bike was basically the Star Wars version of the G.I. Joe Ballistic Battle Ball, something so ridiculous you have to assume it was some kind of covert plant by the opposing side to see how many troops they could kill just by getting them to use it. I mean, seriously, what is the purpose of a giant spinning wheel with legs and an energy bar thing when you're in a universe where flying stuff is everywhere. Is there some sort of strange situation where a STAP and some shields aren't going to work, so you need a clumsy, slower, and much more shootable wheel? The thing is effectively a big rolling target.
I un-parted out the AT-AP I'd taken apart because that set was broken down because of storage space. I have more space now, because I've got more places to stash sets, and could put it back together. The wheel bike was parted out because it just sucked as a set and a vehicle, and I knew it wasn't something I wanted to put in a display (it was even bad at sitting on a shelf), and I had no intentions of finding the stuff.
The original also was one of those sets that was really a harbinger of things to come, as it ran $20 and only included 111 parts. Some of that space was made up for, in hindsight, by the creature that Obi-Wan was riding (it was called General Grievous Chase, after all), leaving only a smattering of parts to make up for that money. This new set increases the price to $25, but let's be honest… that's basically the same price point as $20 was back then. It also increases the part count way up to 261 parts… yet sadly, is missing the one thing that I bought the original for.