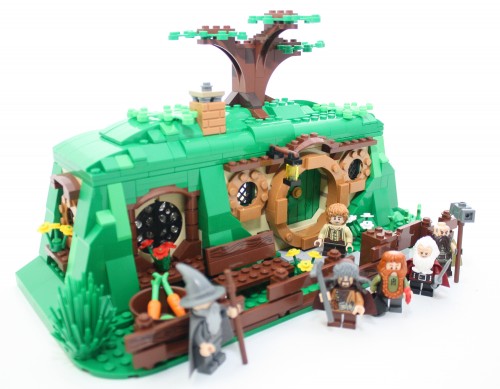 While I was fairly hard on the The Hobbit: An Unexpected Journey in my review of the movie, and wasn't particularly nice to the the last set I reviewed, Escape from the Mirkwood Spiders… An Unexpected Gathering and it's feature of Bag End wowed me when I first saw pictures of the set from Toy Fair early last year.
More than that, this scene, along with the interaction between Bilbo and Gollum, that actually felt like Hobbit movie should feel. Instead of wide-eyed adventure and way too much action, we have a hobbit that's turned upside down trying to figure out why a bunch of dwarves are eating all his food and playing with his knives. It was a good enough that a mini version was turned in to a San Diego Comic Con exclusive this year, for people with more money than good sense.
Make no mistake, the bar was set extremely high for The Hobbit sets when this set was first revealed. It's visually striking, has a bevy of unique parts, and finally gives us something other than a mess of light grey or black parts. It's not a cheap set, coming in $69.99, the second highest in the line.
So the question remains, does it live up to its promise? (more…)